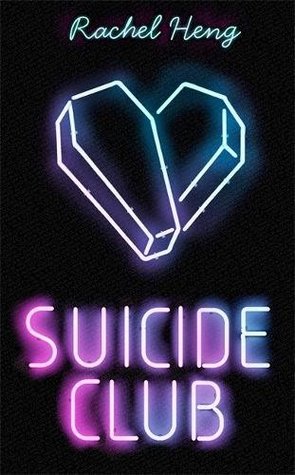 Title: Suicide Club
Author: Rachel Heng
Publisher: Hodder and Sloughton
Release Date: July 10th 2018
Pages: 320
Format: Ebook
Service: Netgalley
Buy: Waterstones
'Sometime in the near future, immortality is about to become a reality. 
Lea thought she was one of the lucky ones. She has a high-powered job. She exercises every day. She hasn't eaten sugar is years. 
But one small mistake puts her under Ministry surveillance and attracts the attention of the Suicide Club, an activist cell who meet to indulge in society's forbidden pleasures. Meat. Jazz. Sex. Death. 
Now Lea's about to learn what it really means to be alive'
I'm finally back to blogging, well kind of anyway. I'm still in the middle of exams but I do have a book review for you guys!
Suicide Club is Rachel Heng's debut novel. It's a dystopian fiction that follows Lea Kirino as she wonders if living forever really is something she wants. I was dying to read this book from the moment that I saw the blurb on Netgalley.
I loved how Heng interpreted flashbacks into the plot. It really helped me understand and grow closer to Lea. I gave a lot of insight into her character development. I felt like they were really well woven into the story. It didn't feel like a sudden time change, we were eased into it with Lea's thoughts. The slightly odd thing for me though, was how the writing that was meant to be happening in the present was a lot harder to follow. I preferred the flashbacks so much more. They were smoother to read.
I found that it was really easy to like all of the characters. Kaito was a character that I immediately fell in love with. His was a story that I really wanted to continue to follow. He had a lot of layers to uncover and was just a really likeable character for me. Anja, however, was one character that took me a little bit to warm up to. I don't think she was introduced in the best way which led to me not having a great opinion on her from the start.
Some of the names of products in this book were a tad too corny for me. But let's be honest here, that's pretty much expected in a YA book. I guess it was just one of those things that made me cringe a little bit but it wasn't enough to put me off of the story.
The major issue that I had with this book is 80% of the way in and I still had no clue what direction the book was meant to be going in. It wasn't in a way where it felt like the author was purposely not wanting me to know information. The plot just got a little messy towards the end. It felt like it was lacking direction.
Overall, the concept of this book was brilliant. However, I don't think it was executed in the best way. And the ending left me feeling so disappointed.
Rating: 3 1/2 stars
I was sent this e-book from Netgalley in exchange for an honest review.
Youtube || Twitter || Instagram || Facebook || Pinterest || Bloglovin'