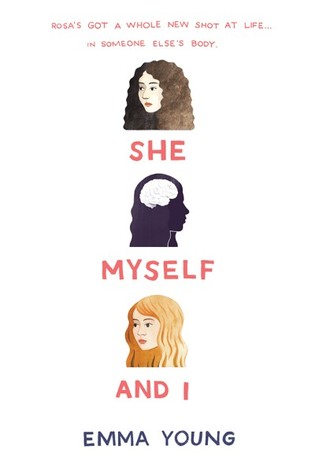 Title: She, Myself and I 
Author: Emma Young
Publisher: Little Tiger Group
Pages: 336
Format: Ebook
Publication Date: September 5th 2017
'Rosa—an eighteen-year-old from London—is quadriplegic. Her doting (if a bit stifling) parents and charming older brother are her entire world. But Rosa yearns for more; so when a doctor from Boston chooses her to be a candidate for a risky experimental surgery, she and her family move to Massachusetts in search of a miracle.
Sylvia—a girl from a small town in New England—is brain-dead. Her parents have donated Sylvia's body to Rosa's cause. Rosa wakes up from surgery as the first successful brain transplant survivor—by all accounts, a medical anomaly. She should be ecstatic, but she can't help wondering with increasing obsession who Sylvia was and what her life was like.
Rosa's fascination with her new body and her desire to understand Sylvia prompt a road trip based on discovery and a surprising new romance. But will Rosa be able to solve the dilemma of her identity? Who is she, in another girl's body?'
She, Myself and I, follows the story of 18 year old Rosa as she undergoes a brain transplant. After a diagnosis at the age of seven, her body had started to deteriorate and she's on the verge of dying. Taking the brain transplant was a novel way of letting her survive. Even with an anonymity clause in the contract she signed, Rosa is still curious as to who was in this body before she was. So, she goes in search to find out more of the girl who's body she now uses, Sylvia.
This book can be quite intense and it led me to feeling a lot of emotions. However, I don't think the intensity was a bad thing. Instead, it brought across all of the feelings that Rosa was going through. How she was trying to find her identity again and trying to put a line between who she is and who Sylvia was.
I loved Rosa and the way she was written. How she got angry and annoyed with certain things and how her natural curiosity led her into a situation that, legally, she shouldn't have been in. I was thankful that this book was in her point of view as it did a lot more justice to her character. I don't think the book would have made sense had it not been.
I felt that there was a little bit of an incompleteness with the ending. I think there was some part of me that wanted a little more. Maybe an epilogue where we saw what Rosa's life was a couple of years after the brain transplant, Although, the book was still wrapped up in a pretty good way and it tied up any loose ends that might have been there for the reader.
Was the romance element of the book rushed a little bit? Possibly. I didn't feel like there was much development on that front, considering the two characters had only known each other a couple of day. I did find it hard not to fall in love with Joe's character though and he added quite a nice dynamic to the book.
All in all, this book was a journey of self discovery for Rosa. She had spent so much of her life not being able to do what other kids her age were doing. She hadn't experienced a lot of the world in a way she wanted to. It was really beautiful to see her experience a lot of things for the first time in a long time as well as coming to terms with the new body she was in.
I would definitely recommend this book to any who's looking for a heartwarming read with a few twists along the way.
Rating: 4 stars
I was given this book from Netgalley in exchange for an honest review. All views are my own and are not influenced by anyone. 
Youtube || Twitter || Instagram || Facebook || Pinterest || Bloglovin'