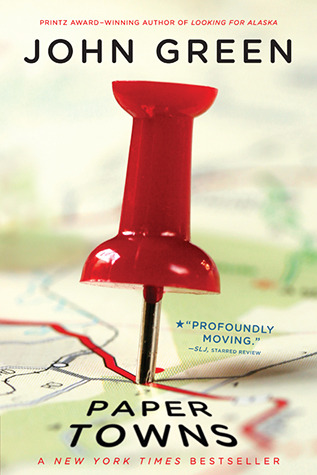 Title: Paper Towns
Author: John Green
Published By: Speak
Publication Date: October 16th 2008
Pages: 305
Format: Paperback
"Who is the real Margo? 
Quentin Jacobsen has spent a lifetime loving the magnificently adventurous Margo Roth Spiegelman from afar. So when she cracks open a window and climbs into his life – dressed like a ninja and summoning him for an ingenious campaign of revenge – he follows. After their all-nighter ends, and a new day breaks, Q arrives at school to discover that Margo, always an enigma, has now become a mystery. But Q soon learns that there are clues – and they're for him. Urged down a disconnected path, the closer he gets, the less Q sees the girl he thought he knew…"
This is the third John Green novel that I have read after reading Looking for Alaska and The Fault In Our Stars. I had actually started Paper Towns around this time last year and for some reason when I had put it down, I never picked it up again. I've been working through my TBR pile through the Summer and this was one of the books that was on the list.
Paper Towns was not a book that I enjoyed reading. The beginning of the book had really captivated me as Margo and Q set off on a night of revenge. As soon as that part of the book was over, my interest began to dwindle for a lot of reasons. I just didn't think that this was a strong plot line. Instead of keeping me interested, I was looking forward to just finishing the book and finding out what happened.
I found it really difficult to like any of the characters in this book. Whilst I love reading about realistic characters that have their flaws, I struggled to find any redeeming qualities in any of the characters in Paper Towns. Q and Margo were definitely not characters that I loved reading about and that was a struggle since they were the two main characters in the book. Q's friends tended to get on my nerves and I just didn't like the attitudes of them.
The main thing that made this book difficult to read was how much of the writing i didn't feel was necessary. There was a whole section towards the end of the book that I felt was just filler. It didn't really bring anything else to the plot. There wasn't a massive impact on me as I finished the book.
I gave this book a fair chance and made sure that I got to the end of it before passing any judgement. However, this isn't a book I think I'll reread.
Rating: 2 stars
Twitter || Instagram || Facebook || Pinterest || Bloglovin'
Youtube || Twitter || Instagram || Facebook || Pinterest || Bloglovin'